Current Projects
Clean Water Kiosk in the Philippines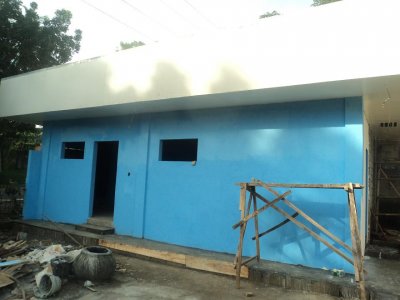 The potable water situation in the Philippines
According to surveys of the National Statistics Office of the Philippines ( NSO ) 24 million Filipinos have no access to clean potable water. This is one of the main reasons for the spread of infectious diseases in the country.

The majority of the population of Philippines has no access to the public water supply system but is buying water in 20 liter bottles sold for approximately 75-euro cents. That's a lot of money for these people. In addition, the quality of this water is not regulated by any authority. Whether it meets the requirements to be safe for consumption is in many cases not assured.



Clean Water Kiosk Philippines
The Clean Water Kiosk in the Philippines will sell recycled and disinfected potable water in 20 -liter bottles at about 50 % of the current price.

For the processing, bottling and sale of water local staff is trained and then responsible for the operation of the Clean Water Kiosk. Thus, the water kiosk not only provides access to clean potable water, but also creates jobs for the local population.



Project Status
In the Philippines a first Clean Water Kiosk will be completed as a reference project. The experience gained in this project will be put to good use for the implementation of further Clean Water Kiosks worldwide. The current pilot project is supported by REDO Water Systems, Grasshopper Investments and the Clean Water Association. It will be completed soon. Due to the local challenges this Clean Water Kiosk is a technically advanced project, it integrates the treatment of locally available raw water much similar to a sewage treatment plant: the drinking water of the kiosk is produced using filtration , disinfection and installation of a bottling facility.