Clean Potable Water
is a human right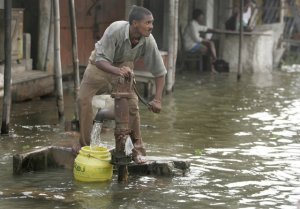 The importance of clean potable water
Approximately 900 million people worldwide have no access to clean potable water - resulting in diseases that kill more children than malaria, measles and AIDS put together.

Each year children miss more than 400 million school days due to diarrheal diseases caused by contaminated water.

Thus, many of these children and young people lose the opportunity for education offering them a way out of poverty. The growing world population and the spread of slums make this problem worse.

Access to clean water – a human rights since 2010
In July 2010, the United Nations General Assembly adopted a resolution, which recognized the access to clean potable water a human right. Governments will be encouraged to create suitable conditions including regulations, investment and investment incentives to gradually improve the supply of clean water.

The aim is that everyone has access to safe and affordable water, which must be available in sufficient quantity to meet the population needs.